Ray Schmidt, 2014 Sunday Cup Champion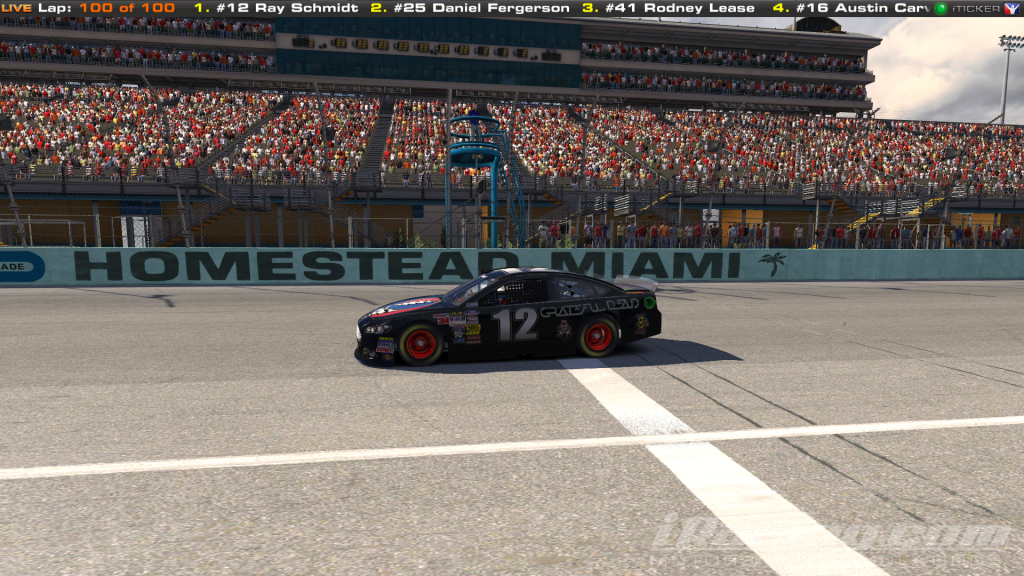 Homestead, Fl- Ray Schmidt finished off the 2014 Sunday Cup Series winning an impressive 15th time. Daniel Fergerson started on the pole and led numerous times but a pit mistake cost him a win. Fergerson would come home second in the race and the championship. Rodney Lease came home in 3rd place edging out Austin "The Legend" Carver at the line. Kent Connolly would lead a couple laps and come home rounding out the top 5. The race saw 2 cautions and include 8 lead changes among 3 drivers.

Final 2014 Standings

1. Ray Schmidt 15 wins 4 poles 2480 points
2. Daniel Fergerson 7 wins 11 poles 2446 points
3. Kent Connolly 2 wins 1 pole 2413 points

4. Rodney Lease 0 wins 0 poles 2406 points
5. Dennis Wright II 0 wins 1 pole 2396 points
6. Austin Carver 1 win 5 poles 2315 points
7. Shawn Turner 0 wins 0 poles 2221 points

I would like to personally thank all the drivers who supported the league. I would be lying if I said I was happy with the turnout. Was really hoping for a bigger crowd on Sundays and have a bigger mix of winners, but enjoyed the racing that we had. Once again thanks for supporting the series and Revved Up.